Windsurf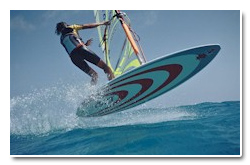 The triangle formed between Riva, Torbole and Malcesine is one of the most famous zones in the world to go windsurfing.
The constantly strong winds, especially in the summer (the Peler from the North in the morning and the Ora from the south in the afternoon) encourage rapid progress for those in training and the organisation of world class events the most famous being the annual "King of the Lake" windsurfing Freestyle competition. Naturally there are many schools where it is possible to rent kit and take lessons in windsurfing.
Kitesurf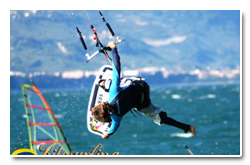 The new sport of the millennium is Kitesurfing, a mixture of windsurfing and parascending. This sport originated on the sea and in the last 2 years has become very popular towards the north of Lake Garda where, thanks to the steadily increasing winds, kite surfers can try the sensation of planning manoeuvres and jumping.
At Lake Garda in the Communa of Malcesine, you can find the only beaches especially dedicated to this sport where it is possible to rent equipment and learn and understand the sport thanks to the availability of qualified instructors.
Parascending
The heights surrounding Lake Garda offer those experienced in parascending some amazing experiences. Many of the companies making parascending kit use Lake Garda to test out their new equipment. Thanks to the many schools and specialist centres, tourists have the chance to admire Lake Garda from a very special point of view!
Sailing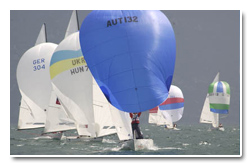 Malcesine and the Upper Garda Lake are a natural ground for SAILING. On the basis of these elements Malcesine has been elected by the Italian Sailing Federation as the official site for training stages of the Italian Olympic Team. Thanks to the co-operation of our instructors, the sailing courses organized by the Fraglia Vela Malcesine will give to everybody the chance to learn the basic rules of sailing in full safety. Upgrade sailing courses and racing skills are also included in our educational program.